Unislat Retail Products
Let your imagination
be your guide...
Unislat products can be used in many applications in many different and unique ways. From retail stores to the home, Unislat can improve the appearance of any area to give it a sleek, updated look. Best of all, Unislat can help you get, and stay, organized. All of our products can be individualized using the huge selection of bins, brackets, baskets and shelves offered for slatwall.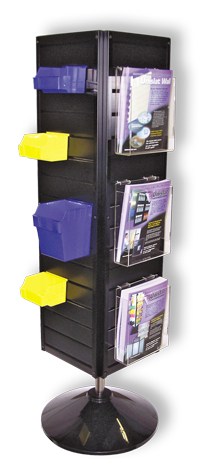 Where Unislat Walls, Towers and Kits can be used:
Retail stores - Use a Wall System to display product and inventory or use a Mobile Tower in an entrance way for instant appeal.
Home - Organize your garage, basement, workshop or pantry.
Campgrounds, banks or anyplace brochures and literature needs to be displayed.

QUESTIONS?
Give us a call
616-844-4211
The Unislat Advantage:
Maximizes storage capacity while minimizes utilized floor space
Inventory may be color coded for ease in retrieving and restocking
Wall design is easily adaptable and changeable
Shelves, brackets, hangers, baskets and more snap into place and hold a variety of products
Quick and easy to install with minimal tools needed
The Unislat 5S Lean Solution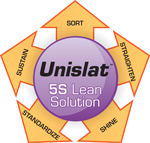 Unislat has developed and maintained a LEAN approach to manufacturing Wall Systems.



Unislat in Action
Unislat offers a variety of products for many different applications. From Towers to Kits to complete Wall Systems, it's easy to change the appearance of Unislat products by switching components. Visit our web gallery to see how retail stores, campgrounds and home owners have discovered the benefits of using Unislat products. Web Gallery >