Unislat Wall Organizer Kits - The "Standard"
Perfect For Garages, Basements, Sheds, Closets, Offices, Craft/Sewing Rooms, Pantries and More!

Unislat Wall Organizer Kits are easy to put up - the only tools needed are a drill, a level and a stud finder. There are NO mounting brackets, the Organizer Kits mount to existing studs. Once the starting strip is up, the rest basically snaps into place! When done, arrange the hooks and brackets to your liking and that's it! Organization has never been so easy!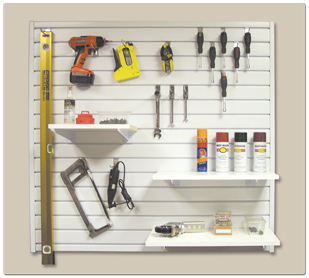 Moisture resistant
Easy to install - No mounting brackets...  
Mounts to existing studs
Tough PVC plastic with thru color
Solid color - No two-tone appearance
Resistant to most chemicals
50% lighter than wood or metal walls
Behind panel accessibility
Excellent UV stability UL 94 rated.
Won't fade or lose strength
UPS shippable
The "Standard" Kit Includes
• Unislat Panels, Starting Strip, Finishing Strip and Corner Strips
• Mounting Hardware • Ten 4" Hooks • Six 6" Hooks
• Six Shelf Brackets (Brackets only - shelves and product not included)
• Assembly Instructions
All the materials and accessories needed to build a 4' x 4' wall.

Easy To Put Up...The ONLY Tools Needed are a Drill, a Level and a Stud Finder!