Unislat Trade Show Systems
Custom Trade Show Exhibit
There are many benefits to using Unislat panels in Octanorm systems. Because Unislat panels weigh 50% less than wood panels, cost savings are realized immediately in shipping, set-up and tear-down. Your initial investment will pay for itself in just a couple shows from shipping costs alone. Plus, Unislat panels won't warp, chip, discolor or break which reduces the need for replacement. In addition to the Octanorm system, Unislat panels can be easily modified to fit in a variety of trade show displays. The panels are available in a variety of colors to match any existing booth design.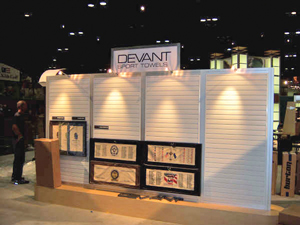 Add shelves and hooks to display and promote an incredible amount of product and can be arranged differently for every show.
Call us for custom orders or configurations.
Save money on shipping, set-up and tear-down with lightweight Unislat panels.

QUESTIONS?
Give us a call
616-844-4211