Unislat Wall Systems
Let your imagination be your guide...
Do a whole wall or any part of a wall. Divide one room into two or four. Add shelves, brackets, coat racks or baskets. Use them in the office or the garage. Get organized in the basement. Use the Unislat Wall System to design a trade show booth, complete with literature holders and product hooks. The options are endless...
The patented Unislat Wall System is a unique product that is constructed from a lightweight plastic that simply snaps together. Easier to install and 50% lighter than metal or wood, the Unislat Wall System can be used in ways never thought possible. PLUS, there are no wall brackets or visible screws to intrude on the visual appearance which gives it a clean, sleak look.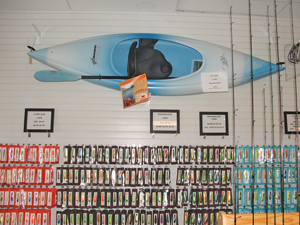 A Unislat Wall is easy to install... Simply screw in the starting strip, snap in a panel and screw it down, repeat until you get to the bottom and snap in the finishing strip. There are no brackets and the screws are invisible when finished.

To see how easy it is to put up a Unislat Wall, our installation instructions show just how simple it is.


For more photos, take a look at the gallery.
The Unislat Advantage
Behind panel accessibility
Resistant to most chemicals & easy to clean
Tough, durable PVC plastic with thru color
Excellent UV stability UL 94 rated.
Won't fade or lose strength
Easy to install - No mounting brackets...
mounts to existing studs
Shelves, brackets, hangers, baskets and more
snap into place and can hold a variety of products.
Standard length is 96" (+/– 1/8")
Unislat Wall Systems can be used in thousands of different ways by adding accessories such as brackets and shelves. Download our Accessory Catalog to see what's available to customize your wall.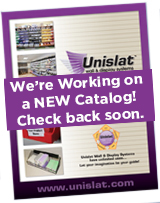 QUESTIONS?
Give us a call
616-844-4211